ANTI-RAGGING COMMITTEE UNDER THE UGC REGULATIONS ON CURBING THE MENACE OF RAGGING IN HIGHER EDUCATIONAL INSTITUTIONS
The University has constituted the Anti Ragging Committee as per the UGC Regulations on Curbing the Menace of Ragging in Higher Educational Institutions.

In the university, we have a zero-tolerance policy when it comes to ragging. We are committed to ensuring a safe and welcoming environment for all our students. Ragging in any form is strictly prohibited, and any instances will be dealt with in accordance with the law and university regulations. We believe in fostering a culture of respect, kindness, and inclusivity. The Anti-Ragging Committee and dedicated helpline are here to support students, ensuring that they can pursue their education free from any form of harassment or intimidation. We encourage everyone to be vigilant, report any ragging incidents promptly, and work together to maintain a campus where mutual respect and well-being are paramount. Your safety and well-being are our top priorities, and we stand united against ragging.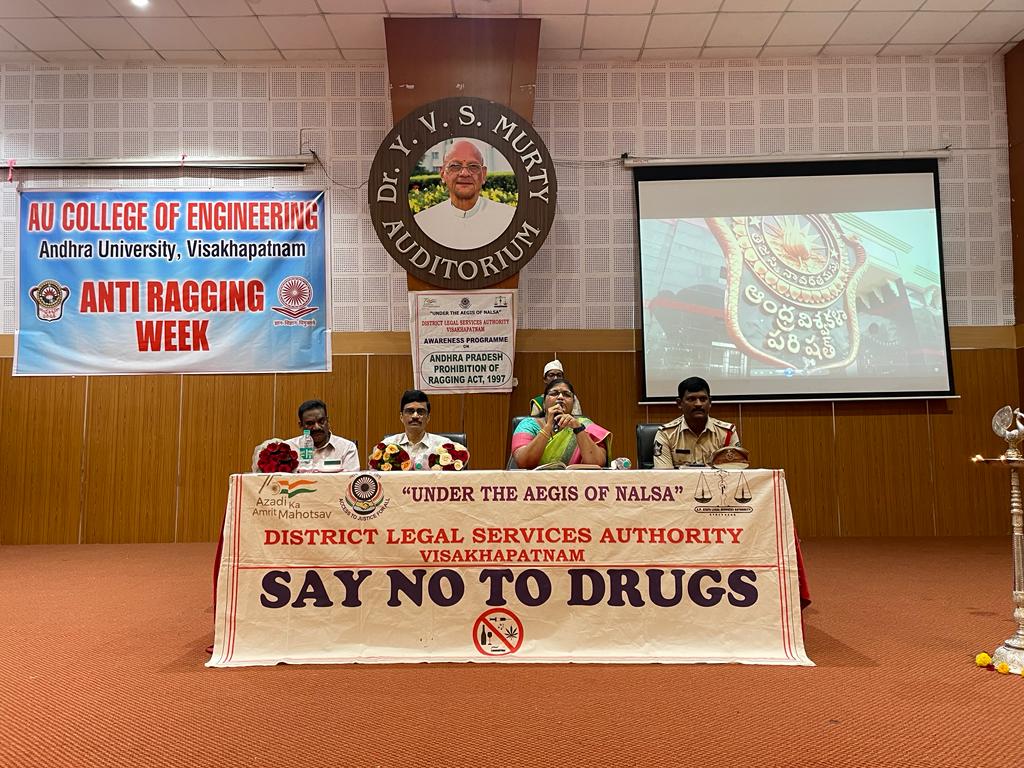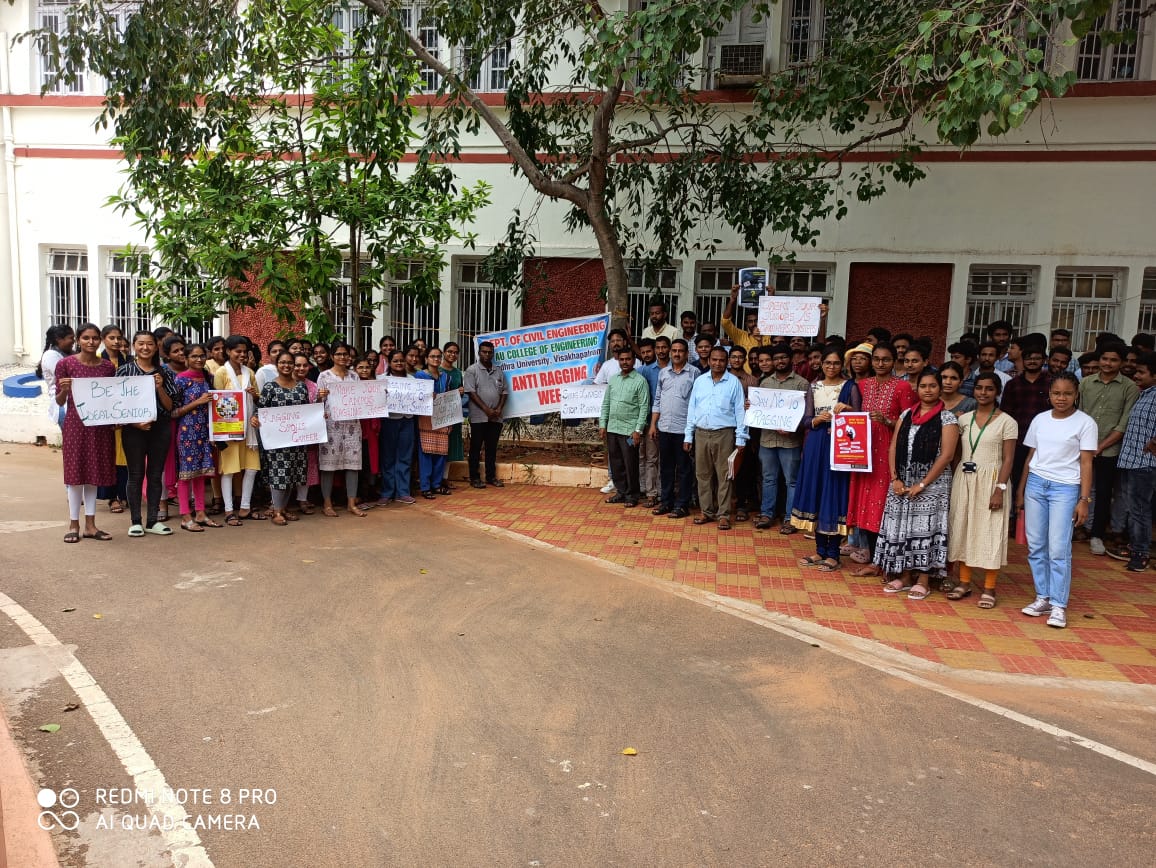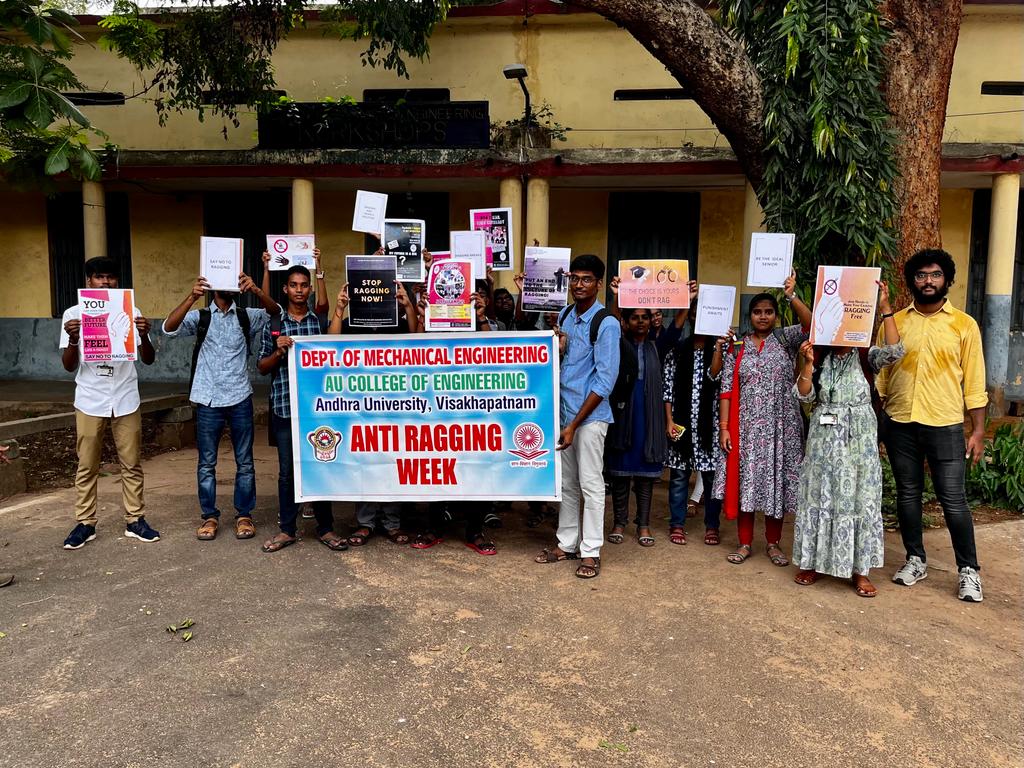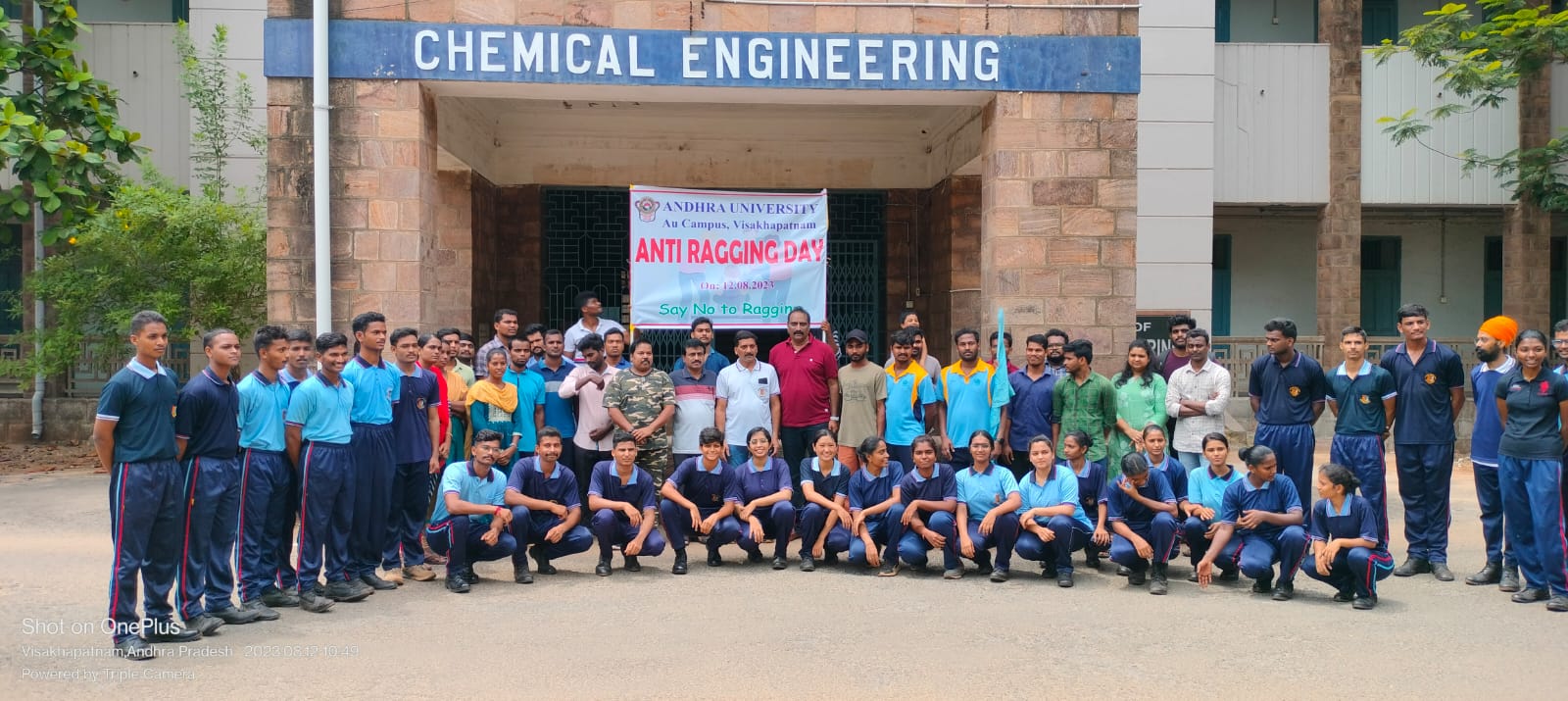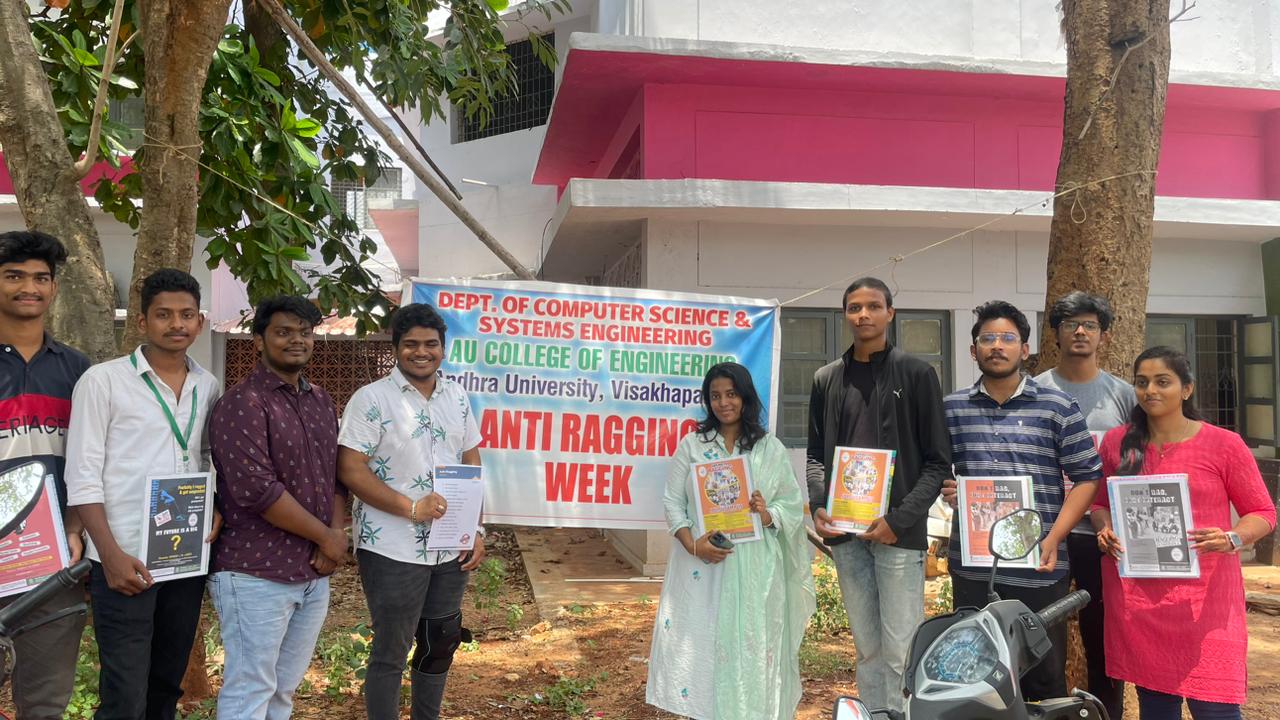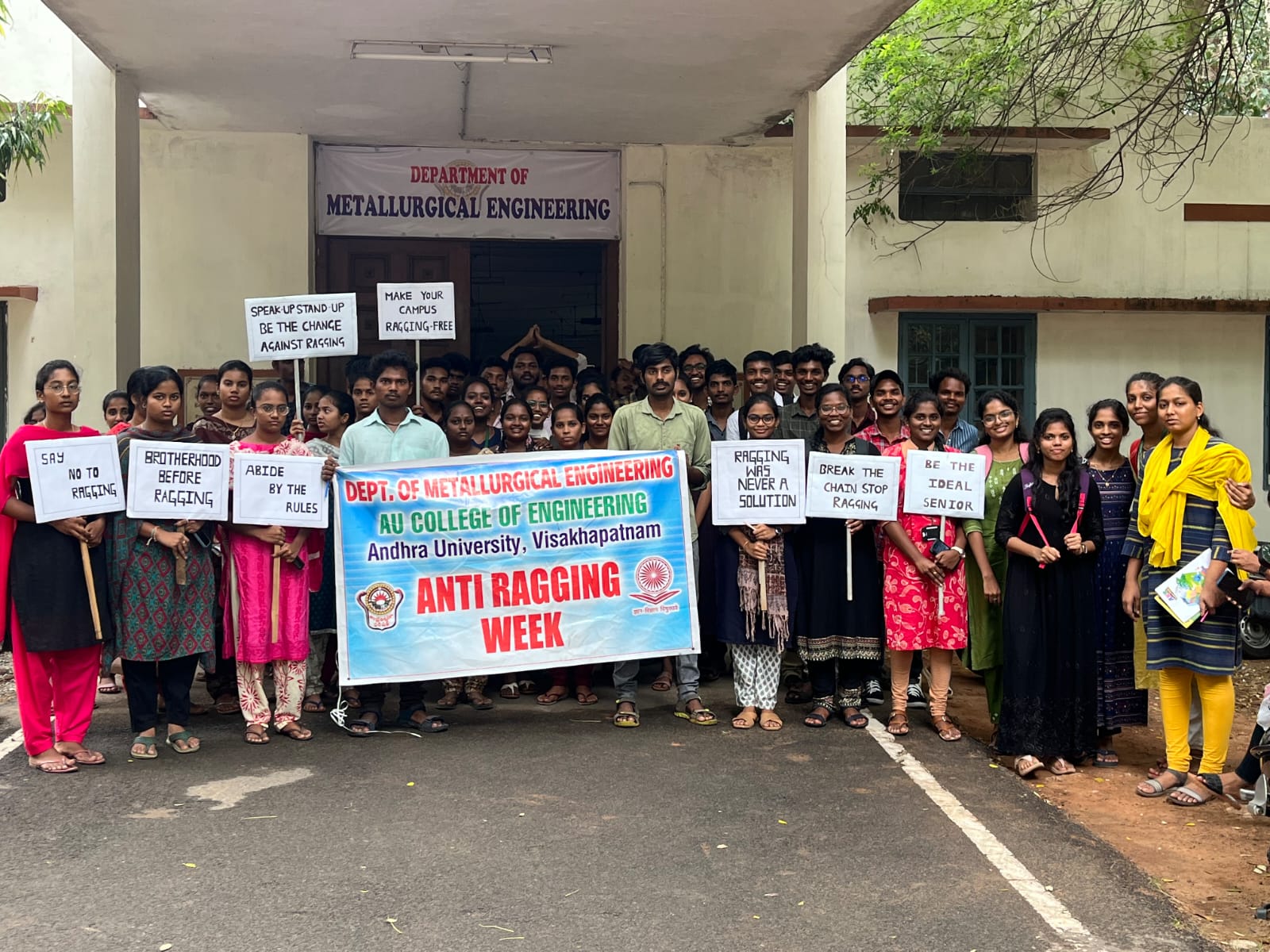 The following members are nominated as members of Anti-Ragging Squad for the AU College of Engineering as per the guidelines given by AICTE, New Delhi. The faculties are requested to take all precautions for the prevention of ragging in the Campus. They are requested to make visits during the allotted times to prevent the incidents of ragging.
Team
Name of faculty
Department
Mobile
Time
TEAM NO: 1
Prof.A.Prasad
HSS (Coordinator)
9440197475
8:30 A.M to 9:30 A.M
Dr.Ch.Asha Immanuel Raju
Chemical Engineering
9030303636
Dr.Muni Reddy
Civil Engineering
9494572898
Dr.P.Swapna
Inst. Engineering
9642715499
TEAM NO: 2
Prof.R.Srinu Naik
Electrical Engineering
9849928174
8:30 A.M to 9:30 A.M
Prof.P.Srinivasa Kishore
Mechanical Engineering
9948547551
Prof.S.Paul Douglas
Engineering Chemistry
9347098430
Ms.M.Deepa
Chemical Engineering
9100951563
TEAM NO: 3
Prof.B.H Nagesh
Marine Engineering
8790767451
12:30 P.M to 1:30 P.M
Prof.S.Adi Seshu
Civil Engineering
9440713480
Prof.Ch.Santhi Sundar Raju
Engineering Mathematics
9440697270
Dr.Neela Victor Babu (Adjunct)
Geo-Engineering
9440586648
TEAM NO: 4
Dr.N.Annapurna
Engineering Chemistry
9441111439
1:30 P.M to 2:30 P.M
Sri.K.Raja Sekhar
Civil Engineering
9703335288
Dr.K.Raja Kumar
CS&SE
9490132765
Prof.C.V.Gopinath (Adjunct)
Mechanical Engineering
8500085855
TEAM NO: 5
Dr.K.N.S.Suman
Mechanical Engineering
9849146966
4:30 P.M to 6:30 P.M
Prof.N.Chitti Babu
Chemical Engineering
9989878974
Dr.Gopi Chand Naik
Electrical Engineering
8341363911
Dr.G.Hima Bindu
Engg. Chemistry
9866706605
TEAM NO: 6
Prof.S.Narayana Rao (Adjunct)
Mechanical Engineering (Dy.Coordinator)
9885896744
4:30 P.M to 6:30 P.M
Prof.G.Rajeswara Rao (Adjunct)
ECE Department
9441374930
Dr.N.M. Yugandhar
Chemical Engineering
9399962023
Dr.Veera Malleswara Rao (Adjunct)
ECE Department
9440042610
Contact Details
Name: Prof. N Vijay Mohan
Contact Number: +91 9703831117