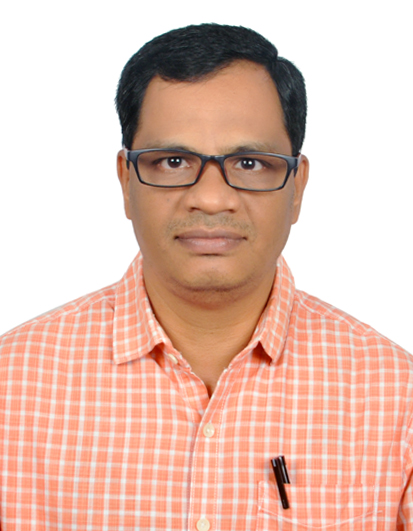 Name :Dr. N. Solomon Benny
Designation : Head of the Department
Phone : (O) 0891-284 4332, 4334 , 4345
Email : head.english@andhrauniversity.edu.in
PROFILE
English as part of the Department of European languages was started in 1932 with Mr.M.V.N.Subba Rao as its Head. English as a general paper then was taught to B.A. (Hons.), B.Sc. (Hons.), and Law students of the University. B.A. (Hons.) English was started in 1945 while the University was at Guntur with Mr. A.F.Thyagaraju, a product of London University as its Head Mr. B.Muthu Swami, Mr. K.Viswanatham, Dr. K.R.Srinivas Iyengar, Mr. G.Subba Rao, Mr. K.Hanumantha Rao Darja and Mr. Narasimha Das were the other members of the faculty. The syllabus was of the standard of Oxford and Cambridge Universities of London. Mr. Thyagaraju left for Gudivada in 1950 to found a college, later known as Dr. Akkineni Nageswara Rao College, at the behest of the then Vice-chancellor Dr. V.S.Krishna. Dr. Iyengar joined the Department in 1947. In 1962 the present two-year M.A. Course was introduced. Till 1966 three year B.A. (Special) was also continued. From 1966 the Department offered two-year M.A. course under non-semester. In 1976 the semester system was adopted and continued upto 1980. In 1966 when Prof. Iyengar became the Vice-chancellor of the Andhra University, Prof. Viswanatham became the Head and after his retirement in 1976, Prof. (Mrs.) Ila Rao became the Head. During her time, three-year headship by rotation was introduced. The Department was later headed by Prof. L.S.R.K.Sastry, Prof. T.Ramesh Dutta, Dr. K.Lakshmi Devi, Dr. V.Ramakrishna Rao, Dr. A.V.V.Narasimha Swamy, Dr. M.S.Rama Murty and Prof. K.Nirupa Rani. Dr. E.Joshe Babu AND Dr.k.Solomon Raju. Prof. V.C. Sudheer, Prof. B.Parvathi, Prof. S.Prasanna Sree, Prof. T.Narayana, Prof. L.Manjula Davidson , Sri. D.Peda Raju and Dr. N.Solomon Benny is the present Head of the Department.
The Department of English, one of the oldest in the University, was carved out of the Department of Modern European Languages, offered by the University in 1945. What began as the course in general English has grown into a post-graduate course, offering ten papers in two years of study with five electives in emerging areas. Many have contributed to its growth as a research Department. G.Subba Rao, did pioneering work on Indian loan words in English, K.Viswanatham worked on comparative poetics and criticism and Prof.K.R.Srinivasa Iyengar conceptualized the study of Indian Writing in English as foundation paper. Prof. Srinivasa Iyengar worked as the head of the Department and Vice-Chancellor of the University. His initiative in writing Indian Writing in English impelled the study of this course all over the world today. For the first time in the Country Indian Writing in English was introduced as paper, for the post-graduate course at Andhra University. Many Universities in the world offering Indian Writing in English at the post-graduate level owe their genesis to the pioneering work of Iyengar. In the 1960's the Department offered Indian Writing in English, American and Common Wealth Literature, which were new areas of study. In tune with the disciplinary needs subsequently Literary criticism, New Literatures, special studies in American Literature, in English Language Teaching, European Classis in translation, Novel were offered. At present the restructured course is offered in four semesters since 2001 -- genre studies in ten papers that is the first two semesters and core papers in Indian Writing in English, Literary Criticism, American Literature, New Literature and European classics in Translation in the third and fourth semesters. The electives offered for the third and fourth semesters are English Language Teaching, Translation theory and practice, Women's Writing, Colonial encounters and Black Literature.
The Department offers research for M.Phil and Ph.D. degrees in areas such as Indian Writing in English, American Literature, British Literature, Black Literature, Australian Literature, West Indian Literature, Canadian Literature, English Language Teaching and Linguistics.
It is in the English Department that Prof. Srinivasa Iyengar prepared his lectures in Indian Writing in English to be given at the University of Leeds in 1958 that later formed the basis of the famous book, Indian Writing in English. Prof. Srinivasa Iyengar corner, which was started very recently, provides as a source centre for young scholars to study Indian Writing in English.
Programs
Programs Offered
M.A English
>
Ph.D in Lingustics
Ph.D in English
| Name | Designation | Qualification | Specialization |
| --- | --- | --- | --- |
| Prof. S.Prasanna Sree | Professor | Ph.D. | Indian Writing in English, Women's Writing, British Novel and Tribal Studies |
| Dr. N. Solomon Benny | Assistant Professor & Head Of the Department | M.Sc,M.A.,M.A., Ph.D. | English Language Teaching, Age of Shakespeare and American Literacture |
| Prof . P. Rajendra Karmarkar | Professor (H) | M.A. | Indian Writing in English |
| Prof. Y.Somalatha | Professor (H) | M.A., M.Phil., Ph.D. | Twentieth Century British Literature, Common Wealth Literature, Indian Writing in English, Literary Criticism, Soft Skills. |
| Dr. Namburi Thyagaraju | Associate Professor | M.A., Ph.D. | Indian Writing in English |
| Dr. Raja Manikyam | Assistant Professor | M.A., Ph.D. | Indian Writing in English |
| Dr. B. Lakshmaiah | Assistant Professor (C) | M.A., Ph.D. | Indian Writing in English |
| Dr. N.Ravi Vincent | Assistant Professor (C) | M.A., Ph.D. | Indian Writing in English |