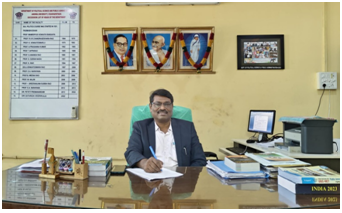 Name : Dr. Govada Veerraju
Designation : Head of the Department
Phone : (O) 0891 - 2844413, 4414 || (+91) 9440476494
Email : veerrajudl@gmail.com
PROFILE
Since its inception, Andhra University has been offering courses in Political Science and Public Administration. Initially, the Department of Politics and Public Administration was a part of HEPA (History, Economics, Politics, and Public Administration). In 1964, it gained independent status under the leadership of Prof. R.V.R. Chandrasekhara Rao, a renowned scholar in Political Science.
The Department provides M.A. courses in both Political Science and Public Administration, as well as a Ph.D. program in both disciplines. Each year, the intake for M.A. in Political Science and Public Administration is 40 each, excluding supernumerary quota.
Over the years, the Department has produced distinguished alumni who have excelled at the State, National, and International levels. Notable academicians like Prof. Mamidipudi Venkata Rangaiya (Padmabhushan), Prof. R.V. Chandrasekhara Rao, Prof. A. Prasanna Kumar, Prof. K. Venkateswarlu, Prof. K. Ravi, Prof. T. Appa Rao, and Prof. Suran Naidu have served in the Department, with some faculty members even holding Vice-Chancellor positions.
The strong alumni base includes prominent figures such as Mr. G.M.C. Balayogi (Former Speaker, Lok Sabha), Mrs. Panabaka Lakshmi (Former Union Minister), Tripuraneni Venkataratnam (Former Cabinet Minister, Govt. of A.P), Mr. Paladugu Venkata Rao (Former Cabinet Minister, Govt. of A.P), Mrs. Rajana Ramani (Former MLA and Mayor of Visakhapatnam), Mr. H.J. Dora, IPS (Former DGP, Govt. of A.P), Mr. Samuel, IAS (Former Secretary, Govt. of A.P.), Mr. M. Vijaya Kumar, IPS (Former DGC), Mr. M. Bhupal Reddy, IRS (Commissioner of Income Tax), Mr. Koteswara Rao IRS (Commissioner of Income Tax), Mr. B. Syambabu (Former Secretary, Government of A.P), and Mr. P. Ramesh Kumar, IAS (Former Chief Information Commissioner, A.P).
Notable political figures like Mr. K.S. Lakshmana Rao (M.L.C, Government of Andhra Pradesh), Mr. Palaparti David Raj (Former MLA), and Mr. K. Ravi Babu (Former MLA and present MLC) are also alumni of the Department.
The Department takes pride in preparing candidates for esteemed positions in IAS, IPS, IRS, Central Services, and State Services through the guidance and support of its faculty.
Furthermore, the Department actively organizes National and International seminars and workshops, with support from U.G.C. and ICSSR. The faculty members actively contribute their expertise as resource persons in these events.
PROGRAMS
Programs Offered
M.A. Political Science
M.A. Public Administration
Ph.D. in Political Science and Public Administration
Name
Designation
Qualification
Specialization
Prof. M. Nalini
Professor
Ph.D.
Gender Studies
Dr. Peteti Premanandam
Professor & Chairman of BOS
Ph.D.
Indian Government & Politics
Dr. Shaik Suleman
Professor (POP)
M.A., , Ph.D.
Administrative Theories and India's Foreign Policy
Dr. G. Veeraraju
Assosciate Professor &
Head of the Department
M.A., M.A., , Ph.D.
Indian Political System , Indian Administration and Indian Political thaught
Dr. V. Hari Babu
Assistant Professor (C)
M.A., M.A., , Ph.D.
Indian Administration , Health Administration, Financial Administration and Disaster Management
Dr. K. Demudu
Assistant Professor (C)
M.A., Ph.D.
Indian Political System
Dr. K. Satyanarayana
Assistant Professor (C)
Ph.D.
Indian Administration and Health Administration
Dr. K. Ratna Raju
Assistant Professor (C)
M.A., Ph.D.
Western Political Thought