Name : Prof. O. S. R. U. Bhanu Kumar
Designation : Honorary Director
Phone : 0891-2566640 , 0891 - 284 4213
Email: director.yoga@andhrauniversity.edu.in
Name :Prof. A. Narasimha Rao
Designation : I/C Head of the Department
Phone : 0891-2566640
Mobile : 9849384419
Email : rbyoga6@gmail.com
head.yoga@andhrauniversity.edu.in
PROFILE
The Department of Yoga & Consciousness which was previously named as Institute for Yoga & Consciousness was established in 1985 at Andhra University, Visakhapatnam in a very scenic environment on the beaches of Bay of Bengal to gospel the Yoga sutras of sage Patanjali. In Visakhapatnam city it is known as "Yoga Village". The Institute originally was founded by Late Prof. K. Rama Krishna Rao former Vice-Chancellor of Andhra University.
The prime objectives of the department is to work on fundamental Research on mind-matter interaction, empirical and conceptual research on Yoga and allied disciplines and organization of extension Yoga programs related to Yoga and Yogic therapeutics with scientific and secular approach.. The department has interdisciplinary in approach and international in scope, and attempts to bring together the high technology of the West and the wisdom of the East for a fuller understanding of human nature, an understanding that reflects at once the experimental objectivity of science and the experiential richness of traditional practices.
The department offers extension Yoga services to the public through Yoga in improving their health and wellbeing documenting the nature of problems and the benefits after availing these services. Encouraging Teaching and Research staff to take up research projects of both cross-sectional and longitudinal nature.
Initially, a three-month Certificate program in Yoga was introduced in 1992. Later, Post - Graduate Diploma in Yoga program was introduced in 1993-94. It is running successfully with a student intake of about 60 students. With increasing demand for short term program in Yoga the department introduced six months Diploma in Yoga program in the year 2006. Subsequently the institute became a full-fledged department in 2010. In the year 2012-13 the department introduced two-year M.A. in Yoga & Consciousness program was introduced. After completion of the program some students have set up their own Yoga centres in India and abroad, while others have joined as Yoga Teachers / Yoga Instructors in private Schools and Colleges. In the year 2017 Ph.D. in Yoga & Consciousness program was introduced. Till now three scholars are obtained Ph.D. degree and including UGC NET JRF scholars 11 more scholars have been doing Ph.D. presently
The Department of Yoga and consciousness has been conducting numerous Health management camps combined with Naturopathy since 20 years to create health awareness through Yoga with a motto to Prevent, Promote, and Cure disease. Yoga therapy camps for Degenerative Diseases, Special camps for Women, and Children; Camps for different health ailments, Diet and Nutrition Camps on various health issues, Acupressure camps etc are running on. The department of yoga and consciousness also helps in conducting Ayurvedic camps in the premises.
The department of Yoga and Consciousness has conducted online programs during the Pandemic Situation of Covid-19, which is an enhancement to the department as well as to the University. Online Yoga programs on Pranayama, Yoga for Women, Yoga for General Health, Yoga for PCOD, for neck and back Pain, Yoga Training program for students, Program on Nutrition and Immune foods and Foundation program on Naturopathy
Along with the camps, to promote awareness among common people the department celebrates programs like Yoga Day on June 21st every year , Radhasaptami to mark the importance of the effect of Sun on human life and Gurupurnima to pay respects to the lineage of Gurus.
Special guests like Sri H Nagendra garu of S-Vyasa founder, spiritual Guru Sri Chinna Jiyar Swamiji were invited to bless the students and to encourage cross cultural diversity.
The Department of Yoga & Consciousness also conducts National Seminars and Research program to encourage students share their knowledge and skills and learn more from such programs.
Andhra University has Established defence Centre offering various programs for the defence services (Navy, Army, Air force etc.,). The Department of Yoga and consciousness is selected as one of the departments offering Certificate and Diploma in Yoga programs for the defence Personnel. Till date (2020) four batches relieved from the department.
Our students participated in various Open National, National, State and District level competitions and won medals.
GUINNESS WORLD RECORDS
The longest time to hold the 8 angle pose in yoga is 4 mins 1 secs and was achived by MEJARI MALLIKARJUNA on 14 Feb 2022

Dr. Mejari Mallikarjuna - Performing Astavakrasana for the record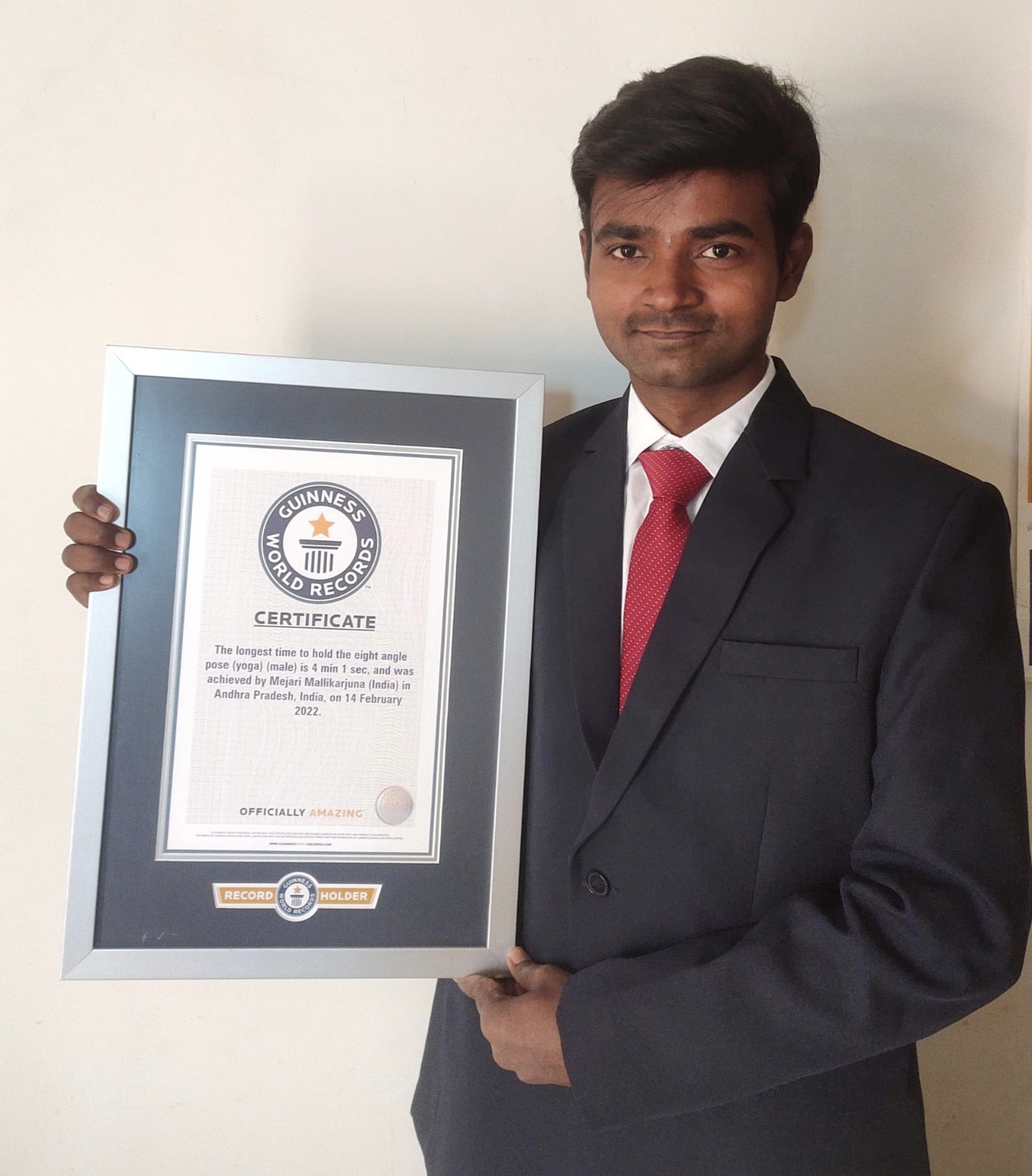 PROGRAMS
Programs Offered
M.A Yoga & Consciousness
PG Diploma in Yoga
Diploma in Yoga
Online Diploma in Yoga
Ph.D in Yoga & Consciousness
Name
Designation
Qualification
Specialization
Dr. C. Sravani
POP
Ph.D.
Food & Nutrition
Dr. R. Tulasi Rao
Assistant Professor (C)
Ph.D.
Naturopathy , Anatomy & Physiology
Dr. S.W.N. Thakshila
Professor of Practice
Ph.D.
Yoga Theraphy , Indian Philosophy, Yoga Classical Text
Theory Class Rooms-2
Practical Yoga Halls-4
Yogic Kriyas Block-1
Seminar Hall-1
General Yoga Classes
Yoga Theraphy Classes
Weight Reduction Classes
Health Management Camps
Naturopathy Treatments